Virtual Binder
Problem
Tyson Food Service (TFS) sales associates would have to print off a Trimester Initiative Plan and physically insert into a three hole binder to be utilized for Food Service product sells. Common issues were involve a binder being lost or damaged, level of print quality did not meet TFS standards, updates would need to be made to documents after publish, and sales associates had no real digital way of showing product videos.
The Ask
How might we create a digital binder using the Trimester Initiative Plan as the guide while have the ability to update real time and access to digital materials for enhanced value.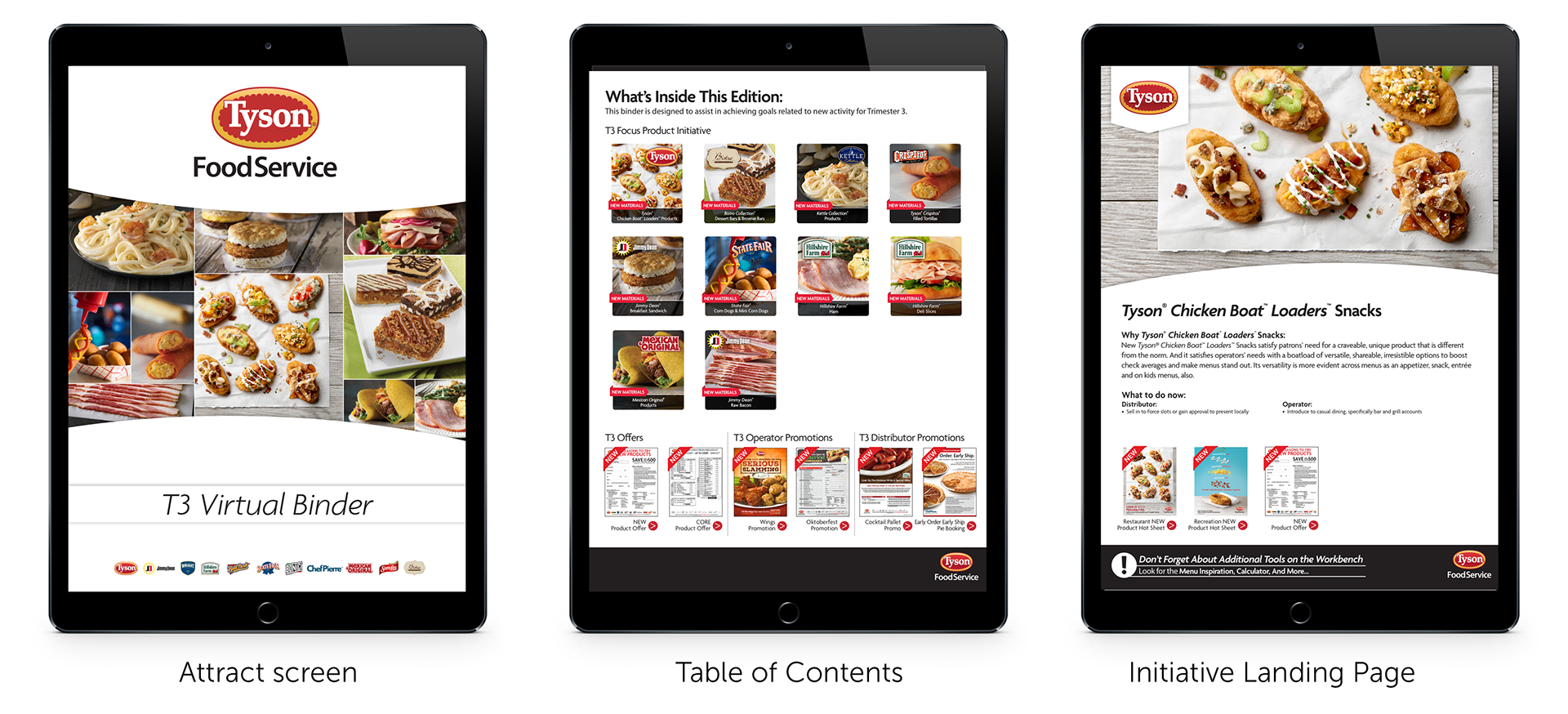 Team
Design Manager: Wilson Winn
Designers: Jason Skinner (lead), Chris Flagg, Cheri Colquitt, Sarah Bladdick, Russell Hoover, Mikel Holloway 
Marketing Manager: Tiffany Jetter
When: August 2016

Persona
Who is our user?
Our users were easily defined and also followed assumptions. At the start of the project, our sales force was about 250+ associates.
Chris is in his early thirties and is newly married. When he is not enjoying time with his wife, he is playing Call Of Duty with the guys. He is tech savory and driven by the sale. His motto is "work hard, play hard."
Larry
(secondary persona)
Larry is in his late forties and has a wife and 3 teenage kids. He is an avid food connoisseur who enjoys to cook for his family and try new things. This love for food carries over in his job and talks about innovation of products all the time. Larry admits he is technically challenged but is willing to try anything once. His motto is "food is what brings people together."
User Testing
Will the delivery on device work?
To test our assumptions we pulled our internal sales managers and had them walk through a couple different layouts and devices. During this time we were able to land on an iPad as the device of choice. Additionally we had to understand if a wifi model was okay based on business direction. To our satisfaction, pain points were very low from these sessions. They tended to deal with technology issues instead of usability of the app.
Site Map
Why do we need to plan for the future?
We created a site map that allowed the teams to quickly see the experience which helped in roadmap planning of features. 

The Solution
Create an application that provides a binder-like experience that is easily updatable from Corporate for speed-to-market changes, provide additional digital tools to increase sales, and remove the out-dated practices.
Quotes
"I feel like we are now in the 20th century and I have up to minute information to sell my products to customers."
- Scott 
(National Accounts Sales Associate)
The Results
While the initial cost to purchase iPads for all sales associates was high, the savings on printing cost immediately dropped. Rollout of initiatives and changes to programs were immediate rather than delayed through email, travel to office, or just missed communication. Changes were automatically pushed to associate devices.